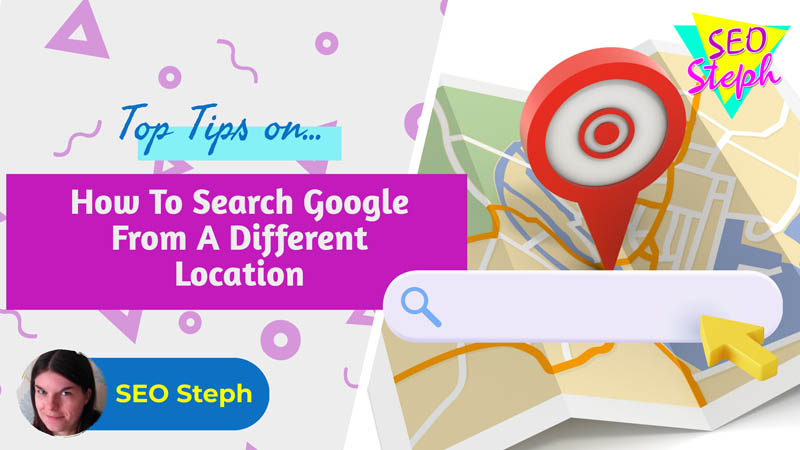 Are you looking to get Google SERPs from a different location than your own?
There are many reasons why you might want to make a Google search from a different town or city to the one you're currently searching from. If you're a business, you may want to see who your competitors are in nearby towns or major cities. Maybe you want to see which websites appears in the top 10 results or which businesses appear in the snack pack for a broad query search or using a local search query like "[keyword] near me".
If you're an SEO consultant, like me, then you may have clients dotted all across the country, or even on the other side of the world. In order to find out what their local search results look like, you can't just make a normal Google search as it'll use your current location. You need to get the results you need in other ways.
Below, I have compiled five different methods of how to perform a local Google search from a completely different city or town location than your own – all tried and tested by yours truly!
Use a VPN
One of the ways in which you can fake a location is by using a VPN (virtual private network). Whilst this might not get you the exact town or city location you want, it is a great way of keeping your search anonymous and starting from a clean slate, as all the traffic you send will appear to be coming from the location you've set using your VPN.
There's tons of VPNs out there to choose from. I've personally used NordVPN, which I found was really easy to use, both on mobile and desktop, and they usually have special offers to get a discount which makes it quite reasonably priced. The good thing about a VPN is that it also has many other browsing benefits.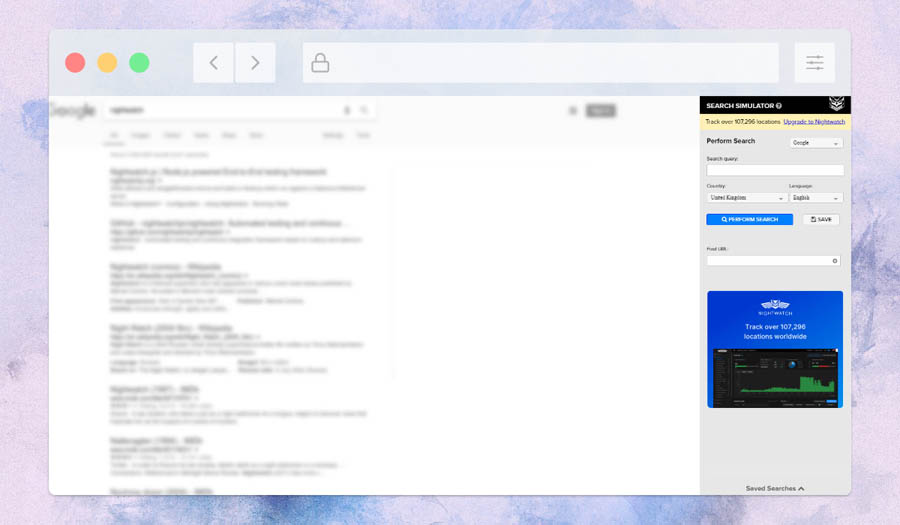 Nightwatch Search Simulator
Nightwatch has a Chrome browser extension which is free to use, and actually works on other browsers too, such as Opera. This handy extension sits at the side of your screen, where you can select a country to check the SERPs from and a field to enter the desired keyword(s) you want to search on Google with. There also fields to enter the domain(s) you are tracking so it can find these for you in the results, should they exist. If they rank in the top 100 results, a little number with the rank will appear next to the domain and you can click it to jump straight to your result on that Google search.
As mentioned, the Nightwatch Search Simulator extension can only be used at country level, so it's not good if you wanted to search from town or city. Nevertheless, it's a great extension which I use regularly when I want to see some clean results, untainted by my search history, for a national search.
Nightwatch also offers a separate premium service which tracks your rankings, and you can drill down to ranking positions by zipcode using it, though it is a rank tracker tool rather than a quick search simulator!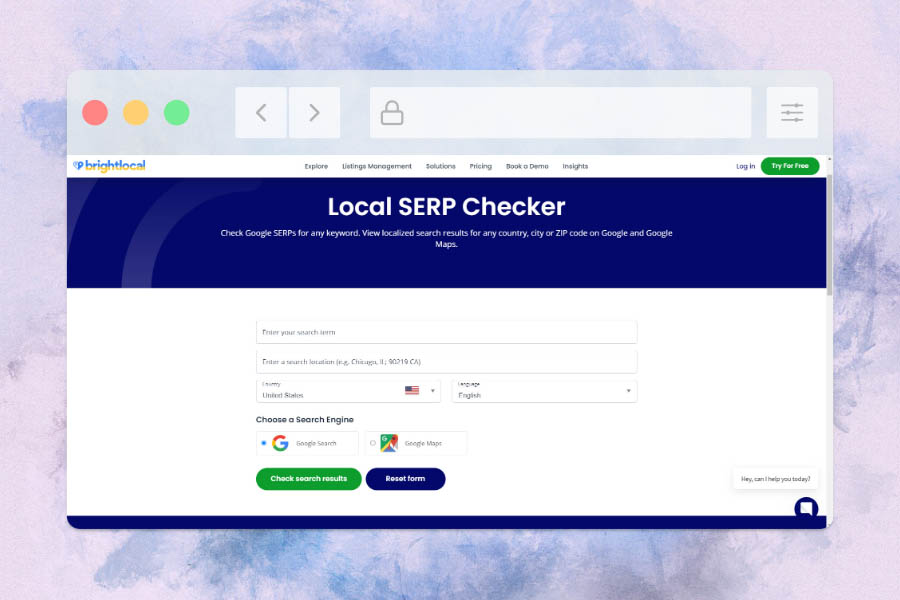 BrightLocal Local SERP Checker
BrightLocal is my go-to when it comes to searching Google from a different city or location. It allows you to search from the country of your choice, right down to town/city and zipcode level! You simply enter your search term, choose whether you want to check the Search results or Map results on Google, and away you go!
One thing you do have to be careful of when using it is not to click the next page of the results as you normally would at the bottom of your search window, otherwise the next page will switch to using your own browsing location instead. BrightLocal's SERP Checker purposely presents the pages as separate icons when you first perform the search so that you can access each result page separately, retaining the specific location you wanted to simulate a search from.
Simple to use and free of charge, BrightLocal's Local SERP Checker is one tool you'll want to keep bookmarked!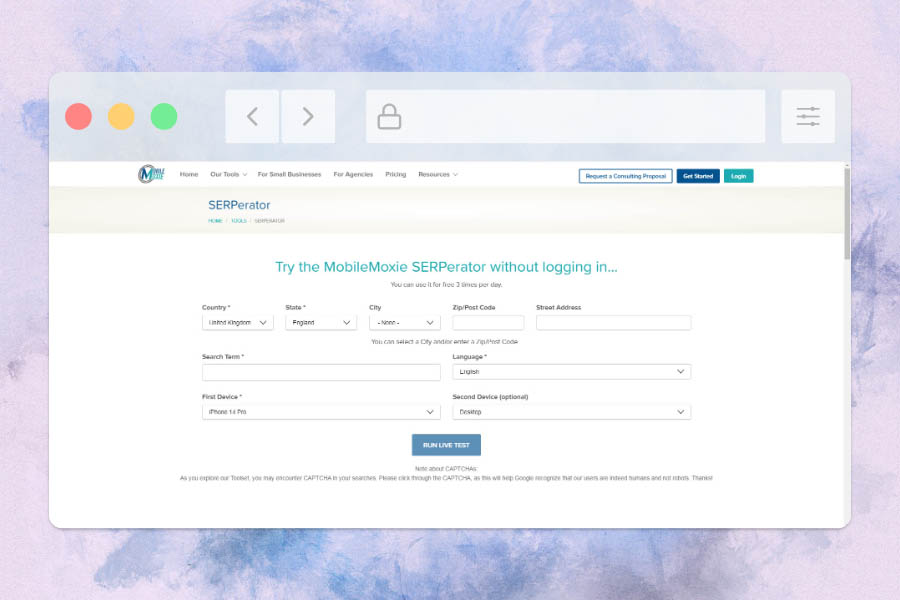 MobileMoxie SERPerator
If you need to check Google search results from a specific device, then you'll want to check out the SERPerator from MobileMoxie. It offers three checks a day free of charge (or you can sign up to a plan for more or to check in bulk). Alternatively, you can install and use their Google Chrome extension which will give you ten checks a day for free!
The website version of MobileMoxie's SERPerator allows you to drill down to street level and zip code/postcode, so you can get the specific results you need. However, unlike the others in this article, you can actually specify the model of the mobile device with tons to choose from in the dropdown selector, from iPhone 14 Pro to Samsung Galaxy S20 (and other brands like Huawei and Google Pixel too!).
The browser extension, which can be used on Brave, Edge and Opera too, doesn't let you choose the model of phone to test with, but it does allow you to switch between iOS and Android devices (shown as iPhone and Google Pixel when I used it), as well as Desktop, and it won't use any extra tests to flip between the options on the same search. You can still drill down to the street address and postcode when performing your search though, which will provide you with the results you require for your location.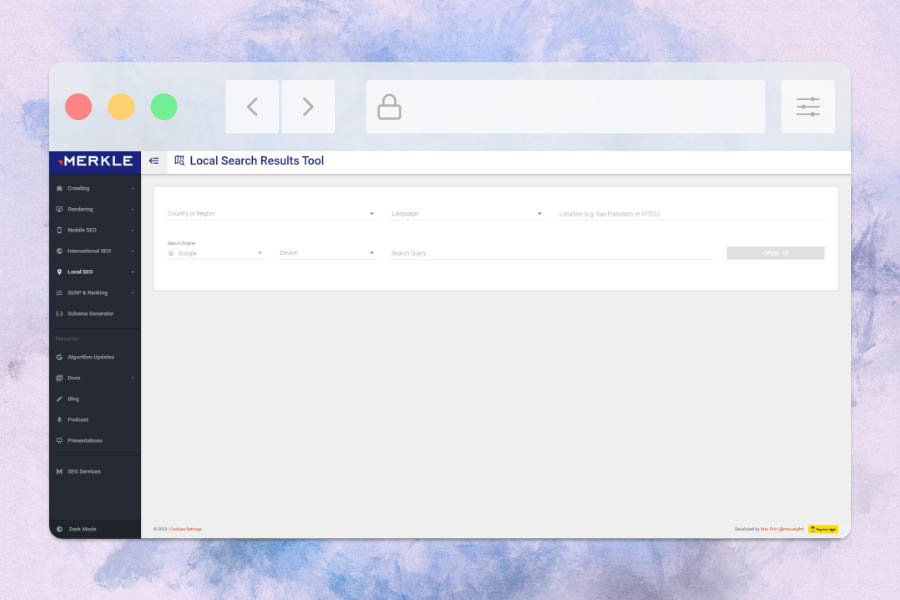 Merkle Search Results Tool
Merkle offers a free search results tool that allows you to enter the town or zip code you wish to search from, as well as select the device, but this only offers options of 'current device', iPhone 'Safari' or Android 'Chrome'.
Nevertheless, if you don't need specific models to base your search on, then the Merkle Search Results Tool is an excellent way of getting a view of the SERPs from a different location than your own.
If you practice SEO yourself, you'll find plenty of other useful tools on this website too, so do make sure to have a nosey about once you've got the local search results you're after.