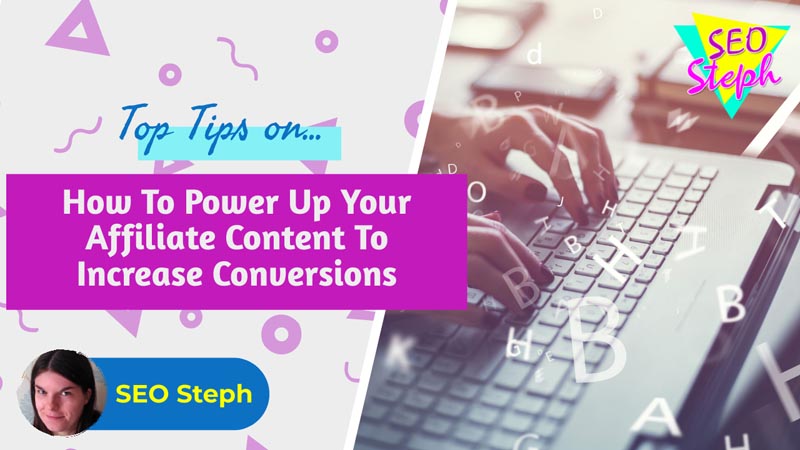 It's more important than ever to provide high-quality content, not just for Google and the other search engines, but for the user too.
When you're writing content with the aim to drive traffic to a webpage, or to convert clicks to earn a commission, the key is to be authentic and provide something fresh and original that's worth reading. If you think you can get away with writing a post that simply recites a product's specification without actually adding anything substantial to the article, think again.
It wasn't long ago that Google released an algorithm update that targeted affiliate websites that provided little other than thin 'review' content. Even if you manage to rank in spite of Google's algorithm changes, or you're able to drive traffic to your website by other means, if your website is built upon shallow content, don't expect to make lots of money from it.
Any good affiliate website needs time invested in it to make it work and earn you money. In this article, I'll be sharing some top tips for content to help drive affiliate sales and earn you the commission you deserve!
Kickstart Your Affiliate Website
Before you can tackle content creation, you need to create a website.
If you already own a website with healthy monthly traffic and a loyal audience, then skip to my four content recommendations further down this article. If not, follow my advice for setting up an affiliate website below.
Deciding Which Niche To Focus On
When it comes to affiliate marketing, my best advice is to focus on a niche that you know well. Whatever your passion may be, make that the focus of your affiliate website. Why? Because you need to give the user something they haven't got – your knowledge and experience. It's very hard to do that if you're unfamiliar with the products you're trying to push. Not to mention, an affiliate website requires time and effort. It's a lot easier to work on producing copy and content if it's regarding a subject you enjoy.
Hobbies are a fantastic gateway to affiliate marketing. If you're a keen angler, you could run an affiliate website promoting fishing products. Or if you're a photographer, you could discuss the latest SLR cameras and digital photo editing software. The possibilities are endless!
Once you've chosen a niche or made a shortlist of options, see which merchants have affiliate programmes by browsing the advertisers on affiliate networks, like Affiliate Window. Some websites may host their own affiliate programmes in-house rather than go through a network so it's always advisable to research the different options available. If you've purchased from a company before and know they're a reputable business, they're often the best types of merchants to enrol with.
Keyword Research and Content Ideas
Once you've got your website set up and chosen your niche, it's time to start thinking about content. You'll want to research products, questions and keywords which people search for and subjects they want to know more about. To find this sort of information out, you can use keyword research tools like the one SEMrush offers. My personal favourites are the more affordable Serpstat, SE Ranking and RankActive, but all of these provide a range of keyword and competitor research tools that will give you the data you need alongside estimated monthly traffic.
You can also look for content ideas, based on popular articles that have been shared on social media, using content discovery tools like Buzzsumo or ContentStudio. These can give you loads of fresh, trending ideas on what to write about in order to gain traction on Google search results and on social media. More traffic means more opportunities to convert users into sales and commission!
Armed with your target keywords, you can begin to plan your content.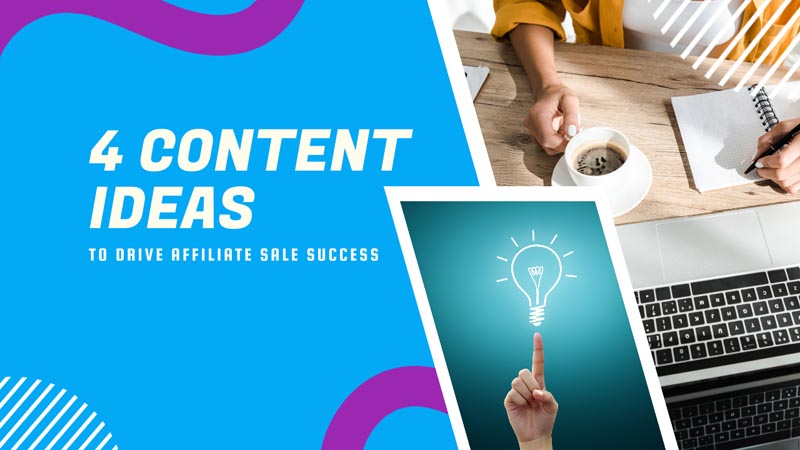 Four Content Ideas To Drive Affiliate Sale Success
With the ultimate aim of driving affiliate sales, it's easy for your content to become sales-pitchy very quickly if you're not careful. Whilst it might buy you some minor success, you'll find this type of shallow sales article limiting when it comes to driving traffic and worth long-term.
Instead of thinking about what the reader can do for you (i.e. click on your affiliate links and buy something), think about what you can do for them. Sometimes you need to take a step back and think about the user first and how your affiliate links can complement the content and be the icing on the cake rather than the focus.
Below I've compiled four content types to take your affiliate marketing efforts to the next level and earn you those juicy affiliate commissions!
How-To Guides
'How to' guides come in many different forms. It could be an instructional article on how to use the product you're pushing, but the problem there is that many users reading this type of guide are usually the ones who've already purchased the product.
Instead, think about an associated article – a guide that involves an overview or walkthrough of a subject related to the product you wish to drive affiliate sales for. The affiliate product should be able to assist with or be the solution for the problem or task that the article is discussing.
For instance, if I wanted to drive sales for camera tripods, I could write a guide about photography and how to capture pin-sharp photographs. Within the article, I'd advocate using a tripod to ensure a steady shot. This is where I could naturally embed my affiliate link. You could even include a sentence as to why that particular tripod is best suited for that task or give the reader a couple of options for varying budgets or requirements.
The 'how-to' guide format leaves you with plenty of opportunities to embed a range of affiliate links. If you have discount codes, you could also promote them in the article too. After all, everyone loves a discount!
With these sorts of guides, however, be comprehensive and try to serve the user first by giving them the detail they need. If you come across as an expert in that field, they'll be more likely to trust your product recommendations.
Comparison Articles
Have you ever been stuck between purchasing two products that are similar? This happens all the time in the SAAS world, where the customer can't decide between two or more pieces of software that provide similar functionality. The same can apply to technology and other industries.
Providing a comparison article that pits This versus That allows buyers to make up their mind which product is right for them. In the article, you'll want to highlight the pros and cons of each product to help the viewer decide the best option. You could even use a scoring system to rate the products on a variety of attributes from functions to price, in order to declare an overall winner.
Dropping in an affiliate link for each product will give you the opportunity to drive traffic to the merchant's sites. If the user visited your website with one product in mind but your article convinced them that a competitor is better, then they're more likely to click on your affiliate link there-and-then as you present to them the most suitable solution to their problems.
Product Reviews
Whether someone is in the market to try a new sports supplement or they're looking for a new piece of hardware for their computer, a product review can answer all those questions and queries before parting with cash.
Product reviews are paramount to a user's buying journey. Honest opinions of someone who has used an item are so important to shoppers everywhere as not all products are made to a high quality. By providing an in-depth review of a product's features and your honest experience using them, it can help the user to make a decision on whether or not the item is right for them. If you embed an affiliate link into your article, even better – you're giving them the option to buy right there and then, at the point of them being engaged. If you have discount codes for that particular product, make sure to mention those at the bottom of your review too!
The key thing with product reviews is to be honest. If you rate everything 5 stars and give every product a glowing review, your article won't be trusted. Almost everything has some sort of flaw and by being honest about the good, the bad and the ugly, your user base will trust you more and be more likely to click on your affiliate links.
Whenever I write product reviews, I make sure to go into as much detail as possible and break down every attribute of the product. I also include my own photos and video so that people can see exactly what they'll get which brings authenticity to my review. Your photos and video don't have to be professionally shot. You could use a mobile phone's camera to get some really nice images that show off different angles and focus in on certain elements that may be useful for the reader.
The main thing to remember when writing product reviews is to provide a review worth reading. Share your valuable insights. Do not just regurgitate the specifications of the product without offering anything extra as Google frowns upon these types of shallow reviews. They know when you're just throwing thin content up for the sake of trying to generate a few clicks and commissions!
Buyer's Guide Listicles
Everyone loves a list, at least I do! Writing something like "The Top 5…" is a great way of providing the user with an article they can easily consume. When people see these lists, especially when they sport a catchy headline, they're enticed into reading them.
If you're looking for topical relevance for the here and now, you could use the date in your article, such as  "The Hottest Tech for 2023". The only downside to having the year attached to your post is that it will date the content, so it's best to return to the article the following year and update it to provide the latest information for your users otherwise you may find that your content has a maximum shelf-life of 12 months.  "That top 10 list is sooooo last year!"
Price points are another good focus for buyer's guide articles, such as "Top Mobile Phones For Under £200". As many people have a certain budget to play with, you can find out what the mid-range, low-range and high-range gear costs and base your listicle around that.
Whatever topic you choose for your listicle, make sure you do your research. If you say something is the best and it is in fact a poor quality item, you could ruin your credibility and that of your blog or website. Stick to what you know and do your homework on whether the product is indeed what you state it to be.
Spread the Word!
The great thing about writing content on your website is that it can be easily shared and repurposed. You can create eye-catching infographics, videos and images to help drive traffic to your article on social media, whether it's straight after publishing the blog or six months down the line. Not only that, but search engines also love content, especially that which provides a wealth of knowledge and information, so remember to demonstrate your authority in your chosen niche and share your expertise with others. Your trusted recommendations are the key to unlocking affiliate success!