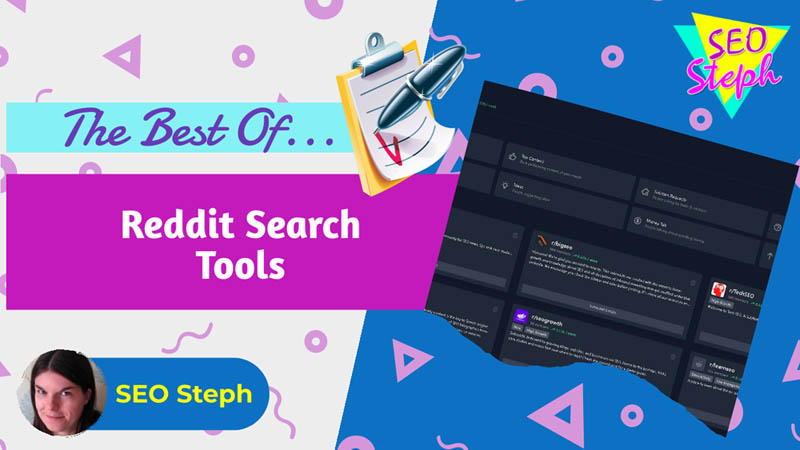 As one of the main message board forums on the internet, Reddit is home to incredible communities fuelling conversations about almost everything, from stocks and shares, to sports.
Perhaps you're a programmer looking to launch your own SAAS startup but need ideas on what your target audience want out of a software; what are people's pain points and how can you use your technical ability to provide a tool that solves their problem? Or maybe you're a content marketer looking for ideas and conversational topics in which to write about. Whatever your need, the users on Reddit can often provide a wealth of information or, at the very least, a starting point in which to leap from.
Unfortunately, trying to find this information isn't the easiest task when using Reddit's own website. The user interface of Reddit leaves a lot to be desired  whilst Reddit's search function isn't as extensive as it could be.
Thankfully, there's some Reddit search tools on the internet, some of which are free and others which are paid, that make searching the subreddit message boards a more pleasurable experience, cutting down the time it takes to find what you need. Let's take a look at some of the best Reddit keyword research tools and audience research tools on the net!
Pushshift Reddit Search
Cost: Free
Pushshift Reddit Search tool is minimalist in appearance but incredibly handy to get the job done. It has the ability to filter by day/week/month/year, minimum number of comments, minimum score of posts or comments, and even offers suggestions of Reddit boards that may be applicable to your search.
The results simply show a thumbnail and title of the thread, when it was posted, by which user and on which board. Pushshift's non-flashy approach may put it in the basic category of Reddit search tools and the user interface can be clunky at times (sometimes you have to move to another tab at the top for results to appear) but for a tool that is free it tends to do what it says on the tin.
Gummy Search
Cost: 7 day trial for $1 then monthly/annual subscription
Gummy Search, for me, is the best of the tools for searching Reddit, especially for entrepreneurs. GummySearch's creator Fed has crafted a beautiful interface that makes searching Reddit a doddle. One of the main draws is that you can create 'audiences' by grouping together a set of boards. For instance, if you wanted to create an SEO audience, you can group together the subreddit boards r/seo, r/bigseo, r/TechSEO, r/SEO_infographics, r/seogrowth, r/learnseo and r/The_SEO and within these you can search your desired keywords. In fact, this audience is one of the preset ones you can easily add to your dashboard when you first use the tool.
As part of Gummy Search, a bunch of suggested preset queries have been grouped so you can see what discussions are hot right now; the best performing threads of the past month; people asking for advice or requesting tools; people suggesting ideas and airing their problems; people talking about spending money, and users discussing about improvements which can be made. These shortcut links to discussions of this nature are incredibly useful to quickly dive into results in your selected audience. However, if you have something specific in mind then you can use the search function to type your own keywords and order by Recent, Upvotes and Comments. If you're using a Pro plan then you can use Advanced Search which allows you to drill down on a user and board basis, and can even track keywords so you're alerted to any new threads.
Gummy Search is an ideal SAAS for anyone looking for search results quickly and to amalgamate an audience on Reddit rather than having to spend time jumping from board to board. For SEO consultants looking for a Reddit keyword research tool, this is one well worth checking out.
Aware Online Reddit Search Tool
Cost: Free
Aware Online Reddit Search Tool utilises search modifier in a handy form so you're able to search on Reddit that bit easier. Simply type in a keyword and you can search by author, subreddit, title of a post, tag, text within a URL or search for a website. Once you hit the submit button, it'll open up a new tab featuring the Reddit website with the specified modifiers in place.
Essentially, it's Reddit's own search function but Aware Online adds the modifiers into the URL without you having to remember what they are and type them out manually. A handy tool if you need a modified search in a hurry.
Higher Visibility Reddit Keyword Research Tool
Cost: Free
Higher Visibility Reddit tool isn't so much a Reddit search tool but SEO consultants and content marketers may well find it interesting. Simply type in the name of a subreddit board you're interested in and it'll return a list of keywords it has scraped from it, complete with monthly search volume and a link to bring context to the keyword (which is essentially a site: search in Google with the term in quotation marks, resulting in a list of results of threads from Reddit where that phrase appears).
You can't perform any meaningful searches on it but if you're looking for sentiment at a glance, the Higher Visibility Reddit tool can quickly provide it.