If, like me, you've run paid advertising campaigns on Facebook before now, you'll know that Facebook carousel posts are one of the most effective and eye-catching ways to promote a group of products or URLs. I'd often use it to showcase a range of products, brands or services, for instance the latest winter coats from a particular brand.
Unfortunately, Facebook don't offer the ability to create carousel posts natively on their app unless you run paid advertisements, but in this article I'm gonna share with you a way in which you CAN post organic Facebook carousel posts to your business page without having to boost it.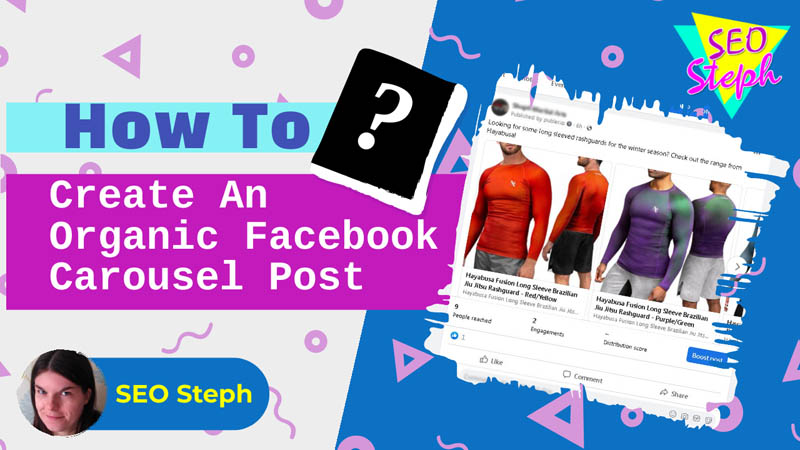 Publishing Organic Facebook Carousel Posts on Your Business Page
When posting on Facebook, you might either post directly or use a third party service. As I like to schedule posts beforehand and post to multiple social media accounts all at once, I use a social media management platform called Publer. Thanks to a recent feature release, I can use Publer to also publish carousel posts to Facebook business pages without having to run it as an advert.
The good news is that Publer offers a free plan so you can follow my guide and be able to post carousels to Facebook without it costing you a thing! If you need to post to several different Facebook pages, to more accounts than the free tier allows, then there's always the option to upgrade to a paid plan.
When you use Publer for the first time, you'll set up the social media accounts you want to manage, Depending on which pricing plan you opt for, you will be allowed to link up a number of social media accounts to your Publer account.
Once you've granted permissions for your chosen Facebook business pages, their icons will sit in the left-hand sidebar ready to be selected whenever you make a post.
How To Create A Carousel Post on Facebook
If you decide that you want to create an organic carousel post on Facebook, all you need to do to initiate this style of post is paste the first of your desired links to your chosen webpages into the message/status box on Publer. Once a link has been added, it will give you the option to add another link or re-attach the same link using a button underneath. By clicking either of these, you can post your second link. Repeat this to add extra links to your carousel. You can have a maximum of five slides in your carousel (five images with same or different links).
Editing the Facebook Carousel Post
The beauty of using Publer for publishing organic carousel posts is the ease of altering the accompanying data. You can change the image associated with each link/slide, the title and the description so that you can create the perfect carousel post for your business page.
By default, Publer will pull in an image from your website, along with the meta title and meta description of your link. If it's found more than one image, you can cycle through these using the arrows. Alternatively, if you've got a specific image in mind, you can simply replace it with an image uploaded from your computer, an image via an external URL, a stock image from Unsplash or an image from storage services Dropbox, Google Drive or OneDrive.
Depending on the tier of Publer you're using, you can even design the perfect image using their integrations with Canva and VistaCreate, meaning you don't have to leave the Publer interface to use these editors. You simply click the button and create your account or sign in with your existing credentials, and the respective editor is there for you to use within Publer. If you sign up for an Business plan Publer account, you'll also get access to a Pro VistaCreate account at no extra charge! Considering a VistaCreate Pro account usually costs from $10 a month, this is quite the bonus.
Once you've finished adding your links, editing your images and text, and crafted the perfect introduction copy for your carousel, you can hit the preview button to see exactly what your post will look like (Publer has now updated to include a live preview as in the GIF below). Once you're happy with how it looks, you can choose to publish the carousel post to your Facebook page straight away or schedule it to publish at a later date.
One you've published your carousel post, you can use the Analytics report on Publer to view its reach and engagement. Facebook's stats provide more data on how well the post performs but this Publer's analytics are still a useful indicator should you wish to use it.
If you've any questions on how to publish an organic Facebook carousel post, let me know in the comments below.
Watch my video walkthrough below to see a step-by-step breakdown.